With about 50% of household waste recycled, the Swiss are rather good students. However, with more than 700 kg of waste per capita and per year, the Swiss are among the largest creators of waste in Europe. So how can we sort and recycle on a daily basis to save money for the environment?
What is recycled in Switzerland?
About fifteen types of waste are collected in Switzerland, but this varies from one recycling center to another. Let's start with recyclables. This is waste that is systematically recycled. However, each municipality has a certain freedom regarding the management of the waste of its citizens. Remember to check with your municipality to find out about the regulations regarding waste management in your area.
The cardboard box (cereal boxes, cake boxes, pizza boxes and others) as long as they are not too dirty (too dirty or too wet).
Paper (letters, newspapers, advertisements, magazines, leaflets) is almost always recycled. However, photo paper and wallpaper that are laminated and specifically treated are not recycled.
Steel and aluminium cans, aluminium trays, cans, aerosols). Aluminium coffee capsules can also be recycled.
Glass (glass bottle, broken glass)
Plastic bottles. As a general rule, only plastics used in the manufacture of bottles and other vials are recycled. This means that your water, milk or oil bottle, shampoo bottles or cosmetic vials are recyclable, but plastic cups, plastic dishes or plastic food trays are not.
Raw vegetable waste and egg shells (compost). There are compostable bags available in the supermarket. 
Sometimes some packaging is made of several materials, some of which are recyclable. In order to reduce the amount of waste that ends up in a taxed garbage bag, it is interesting to separate these materials. For example, remove the cartons around yogurts, separate the transparent plastic from the cardboard for gift wrapping, remove the plastic film from the cardboard when you buy smoked salmon, etc. Beware, beverage berlingots are unfortunately not recyclable and must be thrown in the regular garbage can.
What waste should never be put in a garbage can?
here are wastes that cannot be disposed of in a conventional garbage can. For some of its waste, there are specific disposal methods.
Batteries, batteries and light bulbs which are recycled through specialized channels (at the waste collection centre or via terminals available in some supermarkets) 
The drugs that you have to take back to the pharmacy 
Waste electrical and electronic equipmentFor which there are dedicated channels, but which you can take to the waste collection centre. Any purchase of an electrical or electronic device includes a tax that finances the recovery and disposal of defective objects. As a result, the law requires sellers to collect used equipment
Edible oils could be disposed of in your regular garbage can, but it is best to take them to the landfill. Do not throw it into the pipes, as this can clog them and complicate wastewater treatment.
Motor oils and other drain oils must be disposed of in your waste collection centre or garage
The tires that must be taken to a specialist, to the waste collection centre or to a distributor 
Large scrap metal, wood or material waste that must be taken to the landfill
How do I organize my sorting?
By sorting well, a household can reduce the number of garbage bags taxed by 4 or more. For a household of 4 people using 2 35-litre bags per week, this represents a saving of nearly CHF 12 per month or CHF 144 per year. Almost enough to pay for your phone bill. Sorting is therefore beneficial for the purse, but also for the environment.
The first thing to do is to inform the other members of your household, especially the children, so that they understand exactly what should be thrown in the garbage and what should be sorted. Then, it is a question of finding a space where you can place your bags or bins in which you can put your recyclable waste. It is not necessary to have 15 different bins, usually 2 or 3 are sufficient. For example, one bin for paper and cardboard, another bin for your pet, aluminium and glass bottles, and then a last one for compost. Of course, it depends on the waste you produce the most. There is therefore no absolute rule. However, provide a bag for paper and cardboard. 
Recyclage express will soon offer you very practical bins for recycling that can be adapted to any space.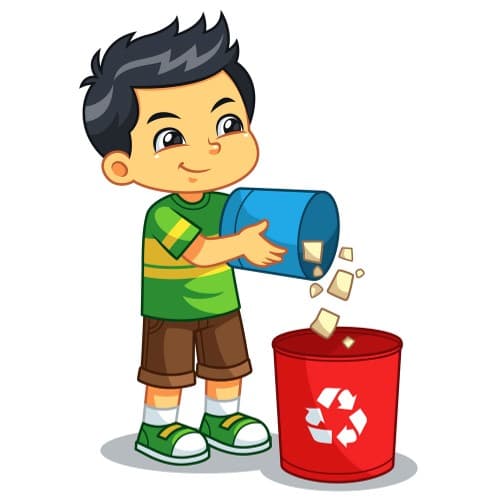 Subscriptions: Recyclable Waste Collection
| Subscriptions | Services | Price/month |
| --- | --- | --- |
| Budget | 1 time per month | 29.90 CHF |
| Good deal | 2 times a month | 49.90 CHF |
| Custom subscription | To be agreed | Estimate within 24 hours |
How do I get my waste to the collection points or waste collection centres?
In Switzerland, everyone has access to a waste disposal centre and there are many ecopoints. Depending on the municipality where you live, different containers are available directly at the bottom of your building. If you are lucky, you have a container for your incinerable waste, another for paper and cardboard and a last one for glass. 
Many municipalities generally in the outskirts of large cities provide only one container for the taxed garbage bags at the bottom of your building.
As far as ecopoints are concerned, it is the same principle, some municipalities have several ecopoints where it is possible to throw away pet, aluminium, glass, sometimes batteries and light bulbs (ecopoints of the city of Lausanne). Other municipalities do not offer any ecopoints. There is therefore a certain inequality in access to the waste disposal service.
Depending on the amount of recyclable waste you produce, it will be a matter of going to the eco-point or your waste facility usually once a week. Be sure to check the schedule of your waste disposal centre, as they vary greatly from one municipality to another (see : Lausanne waste disposal schedules.pdf). Other waste that is not directly recyclable can only be disposed of in a landfill.
If you do not have time to go to a collection point or a waste collection centre, Recyclage Express offers you a subscription system. We come 1 to 4 times a month to collect your recyclable waste at your door. (www.recyclage-express.ch/recyclage).
Quiz: Recycling